[Commande] Vanquish
Par JewMan le mardi 19 octobre 2010, 23:06 - Commande - Lien permanent
Vanquish, ce titre de Platinum Games (édité SEGA) sort dans quelques jours (le 22 pour être exact)!

Alors je n'ai pas pu resister ! Il est commandé sur Fnac.com ( 49,90€).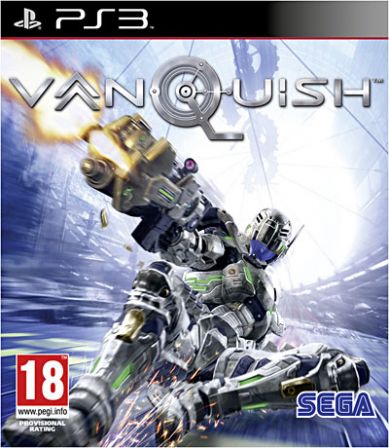 Comme vous pouvez le voir sur l'image, j'ai choisi la version PS3 parce que heu ... bah en fait ce sont les mêmes versions alors j'ai tiré à pile ou face.

Bon plutôt de vous raconter ma vie sur ce jeu je vais vous copier coller des morceaux de tests fait par des pros !

Joystiq (4,5/5) ''That said, not everyone is going to be taken by Vanquish. I've mentioned that it's tough as nails, sometimes you're the nail, and the enemies are an unrelenting hammer, and that will no doubt diminish the enjoyment for some people. You're also not going to find a lot of incentive to revisit the game once it's beaten, other than a quick action fix. It's a single-player experience that doesn't try to be more than it is.

At the end of six hours, I was feeling as rough as Sam's voice from the challenge, but also coursing with adrenaline -- and a profound desire to walk around high-fiving everyone in sight. Vanquish is a supremely fun and polished action game that makes even Gears of War look like a leisurely stroll, and you simply must not miss it..'' Ils disent que c'est trop cool fun et qui casse les pattes de Gears of War

CVG (7/10) Repetitive, unchallenging and short - but gorgeous and stylish nonetheless. ça veut dire que c'est court mais ça déchire.

Gamepro 3,5/5 ''PROS: Some of the most interesting level design and most dynamic firefights you'll ever experience. The environments are epic and the boost slide is awesome. CONS: A thin story packed to bursting with cliches, a painful lack of what could have been a spectacular co-op mode''. Ils disent que c'est cool même si pas de coop et une histoire pas trop originale.

IGN (8,5/10 - editor's choice) Vanquish is a stylish, spectacular looking game with great gunplay and some stunning set pieces. Although the game's story and character development pale in comparison to the action, I had a great time with Vanquish from the in-game tutorial all the way to the ending credits. Even though Mikami's latest creation is difficult at times, players looking for a highly entertaining shooter should look no further. Vanquish will keep you on the edge of your multi-thruster booster seat. c'est court, spectaculaire et c'est cool.

1UP (B+) It helps a lot that ultimately, Sam Gideon is just so damn cool and stylish to play as. At its peak, Vanquish is a beautifully fast and intense fusion of East and West third-person gameplay -- it just isn't quite as good as the director or the studio's previous work. ils disent que ça déchire des 4 points cardinaux.

Alors ! ça donne envie hein ! Encore 2 jours à patienter